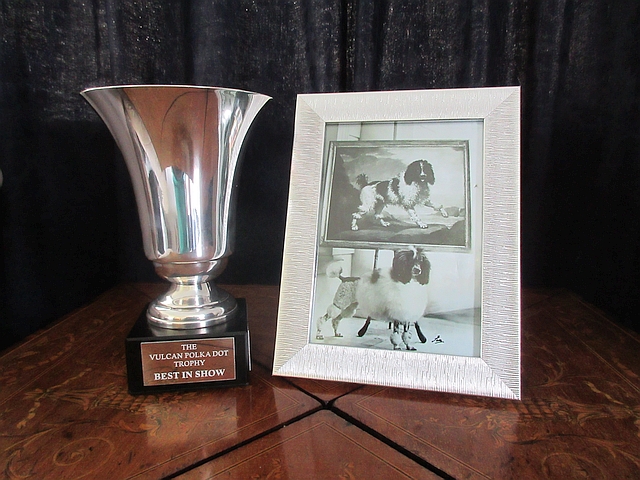 TALE OF A TROPHY!
By Ann Coppage
I was so honoured to be asked by THE PARTI POODLE CLUB if the Best in Show Trophy could be named after the Vulcan Kennel. The original thought was to have a Shield – but then I offered one of my own trophies which had been packed away with others. This particular one is a little different – being in the shape of a vase and never having been engraved. It had been won by a silver standard male I exported to a French friend, 'VULCAN PASSING FANCY', who became a Champion and Elizabeth sent me some of his trophies. I washed and polished it and it looked good! So – what to call it? A light went on in my head and, after consultation with Sara, it became
"THE VULCAN POLKA DOT TROPHY"
So who was Polka Dot? She was a black and white particolour standard. When I arrived at the Kennels – then in Buxted Park – to begin a year's training in 1955! I had a 'list' of 5 poodles and 1 Sealyham. One of the poodles was Polka, in full lion trim. She was the first poodle I groomed, bathed and clipped, which probably took a couple of days! The Hon Mrs Ionides, founder of the kennel, was well known for her love of the particolours. Unlike some other breeders, any partis born in a litter were never put down – there was a WAITING LIST. Polka and her brother, VULCAN DOT AND CARRY, were in a litter of 10 – born in 1953. They were the only partis in the litter – which contained cream, blue, silver and apricot. The sire was blue and the dam white.
Mrs Ionides had a wry sense of humour and entered Polka and her brother – not for competition, at the International Poodle Club's Championship Show in London at Seymour Hall on 31 August 1954. No crates in those days; all the exhibits had to be benched – so there were these two particolour puppies in full view, next to the other seven dogs in the Vulcan Team! I wish I had been there to see the other exhibitors' faces!
So that's two reasons why Polka is special – but the third is the photograph that has been reproduced many times in canine press. Mrs Ionides owned an oil painting of a particolour poodle – near life size, not signed but attributed to the School of Stubbs. She commissioned the then top dog photographer, Thomas Fall, to come to Buxted Park and photograph Polka standing underneath the painting. The markings on the dogs are similar. I don't have that particular Annual – but I believe this photo was the Vulcan Kennels full page advert that year.
I'm sure both Mrs Ionides and Shirley Walne would thoroughly approve the naming of the Club's Best in Show trophy – and I also thought that as it is a perpetual trophy – i.e. has to be returned for the next show, it would be nice if the owner of the winning dog received a framed copy of Polka's photo to keep as a memento. This I intend to present to the Club each year – as long as I am still around!
FOOTNOTE:
INT.CH. VULCAN PASSING FANCY and VULCAN POLKA DOT have ancestors in common – even though they were born two decades apart.
Ann Coppage